#68 The Treasure of Abbot Thomas by M.R. James
Manual for the Treasure Seekers
5 months ago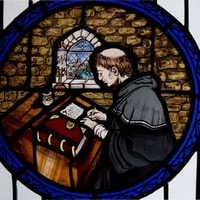 Mr. Montague Rhodes James was a medievalist scholar and provost of both King's College and Eton College. His stories have a strong foundation in historical research with an element of truth at their core, making their plots almost believable.
The main characters of his tales are often archaeologists or antiquaries. This was fitting, for in 1902, M.R. James himself discovered a manuscript fragment which led to excavations in the ruins of the abbey at Bury St Edmunds, in which the graves of several twelfth-century abbots were rediscovered, having been lost since the Dissolution of the Monasteries. He also catalogued many of the manuscript libraries of the University of Cambridge and translated the Book of Baruch from its original Ethiopic in 1879.
Being such an authority in the experiences of historical research puts him in a league all of his own when it comes to ghost stories and you feel as if you can just reach out and touch the characters of his gripping plots.
I give you one of his best, "The Treasure of Abbot Thomas."
My website: https://catholic-mens-podcast.pinecast.co/
Email me at: [email protected]
Attributions: The Chamber by Kevin MacLeod Link: https://incompetech.filmmusic.io/song/4486-the-chamber License: http://creativecommons.org/licenses/by/4.0/
The Other Side of the Door by Kevin MacLeod Link: https://incompetech.filmmusic.io/song/4500-the-other-side-of-the-door License: http://creativecommons.org/licenses/by/4.0/