#52 The Bridge Blaster
Col. Ripley and the Bridge at Dong Ha
2 years ago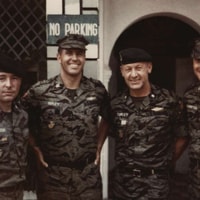 "Jesus, Mary, Get me there!"
This was the prayer shouted by Col. John Ripley as he laid his demolition charges under the bridge at Dong Ha. He handwalked under the bridge miraculously avoiding commie red tracer rounds that the North Vietnamese shot at him from accross the river. The bridge was the only way the had to continue their Easter Offensive and they weren't playing around.
How could this bloody mess of a Marine possibly manage to keep going and avoid there fire? You and I know the answer, but the commies learned the hard way that day.
Listen to the full story of Marine Corps legend, Col. John W. Ripley.
My website: https://catholic-mens-podcast.pinecast.co/
Leave me a voicemail: https://www.speakpipe.com/CatholicMensPodcast
Email me at: [email protected]
Attributions: